All eyes will be on the city of Wuhan in a few weeks' time, as the best female tennis players on the planet converge at the Wuhan Open, the final Premier 5 tournament of the year.
Since its debut in 2014, China's largest professional female tennis tournament has enjoyed spectacular player lineups and this year promises once again to dazzle. Signed up to play are 8 of the world's top 10 and 17 of the top 20 players, assuring intriguing matchups right from the tournament's opening round.
Tennis fans will be treated to 6 Grand Slam singles champions (Garbiñe Muguruza, Angelique Kerber, Jelena Ostapenko, Svetlana Kuznetsova, Petra Kvitova and Samantha Stosur) and 3 current or former number 1's in Karolina Pliskova, Kerber and Caroline Wozniacki.
Competing for US$2,666,000 in prize money include:
Garbiñe Muguruza: #1 in the Race to Singapore, Muguruza knows how to play on the world's biggest stages. Despite only reaching three finals in the last two years, the Spanish world #3 has won them all, and they've been tennis' biggest crowns at last year's French Open, this year's Wimbledon and most recently, the Premier 5 tournament in Cincinnati.
Jelena Ostapenko: The 20-year-old from Latvia came out of nowhere at this year's French Open to take her maiden Slam, defeating world #2 Simona Halep in a gutsy display of furious power. During the tournament, her average forehand speed came in at 76 mph (122 kph), just behind Rafael Nadal and ahead of Andy Murray. The Latvian knows just two ways to hit the ball: hard and harder, and she brings her explosive groundstrokes to Wuhan looking to break into the Top 10 for the first time.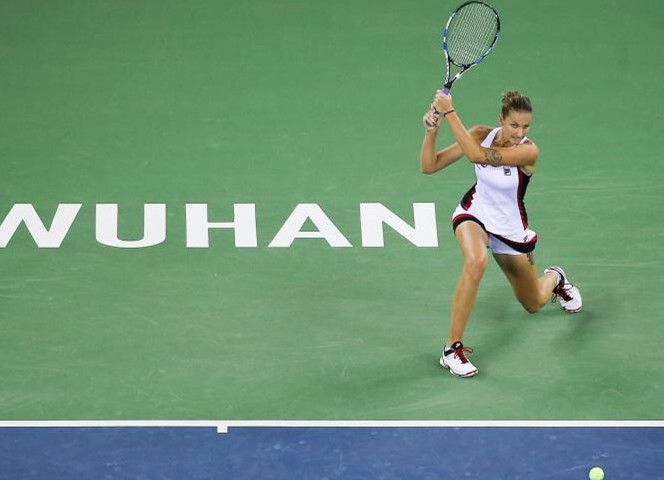 Karolina Pliskova: The WTA's newest and reigning #1 player, Karolina Pliskova had a blockbuster beginning of the year, taking titles in Brisbane, Doha and Eastbourne. The hard-serving Czech has hit 348 aces so far in 2017, the most of any woman, and well on her way to topping the ace leaderboard as she did in 2015 and 2016. Can her serve propel her to the trophy in Wuhan to match her biggest title to date at Cincinnati in 2016?
Sandwiched between the US Open and the WTA Finals in Singapore, the Wuhan Open occupies a strategic place on the tennis calendar with 900 all-important ranking points up for grabs in a furious dash to qualify for the elite year-ending tournament or to finish the year as the coveted World Number One.
Despite the absence of world #4 Elina Svitolina, 2015 Wuhan Champion Venus Williams and an expectant Serena Williams, there is plenty of anticipation for the final Premier 5 tournament of the year. Here are three storylines that might very well play out at this year's Wuhan Open:
Battle for Year-End #1
With Serena Williams, Victoria Azarenka and Maria Sharapova largely absent this season, it's been a see-saw battle for the number one spot, with 2016 Australian and US Open Champion Angelique Kerber yielding the top ranking to Karolina Pliskova in July. But with the US Open and the WTA Finals yet to be played, there are at least half a dozen women with a real chance to cross the finish line on top including Simona Halep, Caroline Wozniacki and 2015 Wuhan runner-up Garbiñe Muguruza, all who are entered to play Wuhan. With 900 precious points going to the winner, Wuhan may very well play an important role in the hotly contested battle for the WTA's top spot.
Comeback Queens
This year's Wuhan Open welcomes back two-time Wuhan champion Petra Kvitova who leads the charge of players returning from injury. Off the tour for six months after having surgery on her playing hand which was injured during a home invasion, Kvitova returned in style, winning just her second tournament back on the grass in Birmingham. She's shown she can play on Chinese hardcourts, claiming the Wuhan trophy in 2014 and 2016. Also in the draw is another comeback player who Kvitova knows only too well in the form of American Sloane Stephens. Out 11 months herself with a foot injury, Stephens has stopped Kvitova twice this summer already on US hardcourts. Other players coming back from injury include hard-hitting #14 seed Madison Keys and #33 seed and 2015 French Open runner-up Lucie Safarova who will be looking to take advantage of their relative freshness at the tail end of the season.
Home Team
China is represented by #21 seed Peng Shuai and #26 Zhang Shuai. Zhang will be looking to recapture some of the magic that took her all the way to the quarterfinals of the 2016 Australian Open while local fans will be rooting for Peng to recreate the success she's already enjoyed this year on Chinese soil, having won the tournament in Nanching and finishing second in Zhengzhou.
The Dongfeng Motor Wuhan Open takes place between 22-30 September 2017. For more information and to buy tickets visit: www.wuhanopen.org and www.4008702014.com