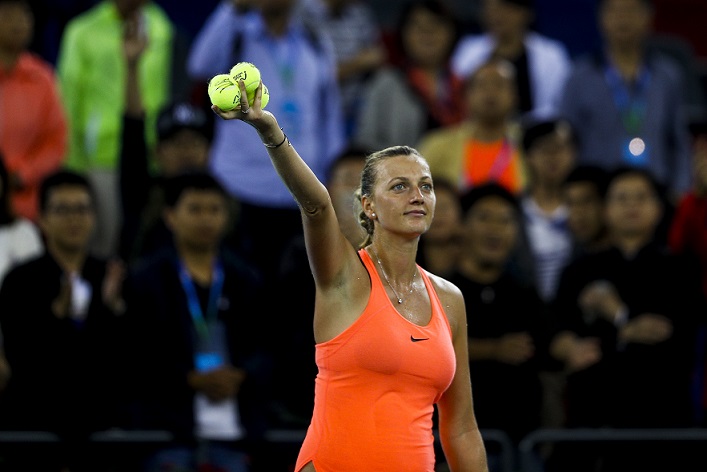 29th September 2016
Resurgent Petra Kvitova will face Simona Halep in Friday's semi-finals in Wuhan after both players delivered unstoppable performances on Thursday. Svetlana Kuznetsova also faces Dominika Cibulkova for a place in the last four at the WTA Premier 5 event in central China.
Kvitova followed up Wednesday evening's barnstorming win over World No.1 Angelique Kerber with show of strength against Johanna Konta in the Wuhan quarter-finals. "I don't think it's just this tournament. I mean, I know the confidence is building with a couple matches, that you really have to fight, you have to feel well," said Kvitova. "You get some wins in a row, which really didn't happen in the beginning of the season. Of course, I love to play in China, as well. But I think I'm kind of more relaxed probably and just enjoy the game."
Halep's straight sets victory over Madison Keys secured her place in the last four in Wuhan and also ensured her qualification for the eight-player field at the BNP Paribas WTA Finals in Singapore next month.
Kuznetsova came through in three sets against a typically determined Agnieszka Radwanska in their quarter-final. "I didn't play that well in the first set and Aga was doing the right things," said Kuznetsova. "In the second set I knew I had to stay in there in order to have chances to turn match around. I knew if I would win the second set, I would have more chances in the third."
Cibulkova needed to play two matches in one day to fight her way into the semi-finals. After notching up a 62 62 win over Karolina Pliskova in the day session, she then rounded off a successful day in Wuhan with a hard-fought quarter-final victory over Barbora Strycova which ran late into the night.
2016 DONGFENG MOTOR WUHAN OPEN - WUHAN, CHN

$2,589,000
25 SEPTEMBER-01 OCTOBER 2016
Results
Women's singles third round
[10] D. Cibulkova (SVK) d. [5] Karolina Pliskova (CZE) 62 62
B. Strycova (CZE) d. J. Jankovic (SRB) 16 64 75
Women's singles quarter-finals
[9] S. Kuznetsova (RUS) d. [3] A.Radwanksa (POL) 16 76(9) 64
[4] S. Halep (ROM) d. [8] M.Keys (USA) 64 62
[10] D. Cibulkova (SVK) d. B. Strycova (CZE) 63 36 64
[14] P. Kvitova (CZE) d. [11] J. Konta (GBR) 63 64
Women's Doubles - Quarterfinals
[2] H. Chan (TPE) / Y. Chan (TPE) d R. Atawo (USA) / A. Spears (USA) 63 06 10-4
[5] B. Mattek-Sands (USA) / L. Safarova (CZE) d A. Krunic (SRB) / K. Siniakova (CZE) 63 64
C. Mchale (USA) / S. Peng (CHN) d K. Bondarenko (UKR) / C. Chuang (TPE) 64 62
Second Round
C. Mchale (USA) / S. Peng (CHN) d [1] C. Garcia (FRA) / K. Mladenovic (FRA) 36 62 10-2
[2] H. Chan (TPE) / Y. Chan (TPE) d A. Klepac (SLO) / K. Srebotnik (SLO) 36 75 10-8
A. Krunic (SRB) / K. Siniakova (CZE) d [4] M. Hingis (SUI) / C. Vandeweghe (USA) 67(4) 75 10-7
[5] B. Mattek-Sands (USA) / L. Safarova (CZE) d [WC] X. Han (CHN) / L. Zhu (CHN) 64 76(7)
[6] T. Babos (HUN) / Y. Shvedova (KAZ) d [WC] T. Bacsinszky (SUI) / S. Kuznetsova (RUS) 30 Retired
K. Bondarenko (UKR) / C. Chuang (TPE) d [7] A. Hlavackova (CZE) / L. Hradecka (CZE) 64 46 10-8
ORDER OF PLAY - FRIDAY, SEPTEMBER 30, 2016
CENTRE COURT start 1:00 pm
C. Mchale (USA) / S. Peng (CHN) vs [5] B. Mattek-Sands (USA) / L. Safarova (CZE)
Not Before 3:30 pm
[9] S. Kuznetsova (RUS) vs [10] D. Cibulkova (SVK)
Not Before 7:00 pm
[14] P. Kvitova (CZE) vs [4] S. Halep (ROU)
[6] T. Babos (HUN) / Y. Shvedova (KAZ) or [3] S. Mirza (IND) / B. Strycova (CZE) vs [2] H. Chan (TPE) / Y. Chan (TPE)
COURT 1 start 4pm
[6] T. Babos (HUN) / Y. Shvedova (KAZ) vs [3] S. Mirza (IND) / B. Strycova (CZE)
The Dongfeng Motor Wuhan Open takes place between 23 September and 01 October 2016. For more information and to buy tickets visit: www.wuhanopen.org