Sunday 25th September 2016
Grand Slam finalists Roberta Vinci and Lucie Safarova were among the winners on a busy first day of main draw play at the 2016 Donfeng Motor Wuhan Open on Sunday.
Vinci, who reached the semi-finals in Wuhan last year, proved too strong for recent Olympic Gold medallist Monica Puig, notching up a 63 63 win to set up a second round meeting with Yaroslava Shvedova.

Safarova beat Vavara Lepchenko 75 63 to set up a tough all-Czech clash with this year's US Open runner-up Karolina Pliskova.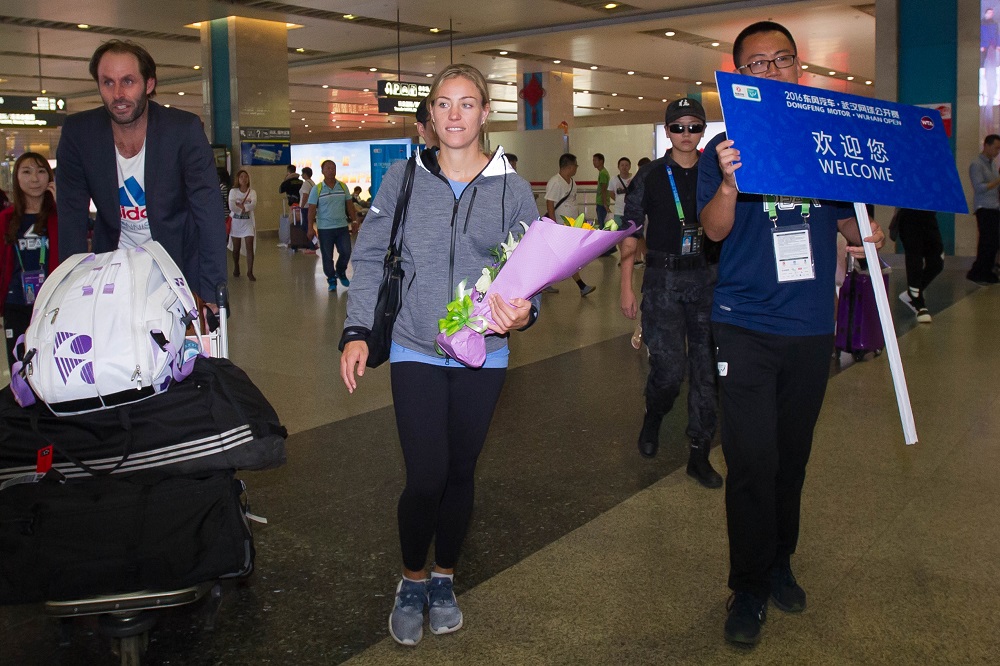 Top seed Angelique Kerber arrived in Wuhan on Sunday, ready to play her first tournament since winning her second Grand Slam title of the season at the US Open, a victory which took her to No.1 in the WTA Rankings.

"I know it's not a dream anymore, and I know that I reached the top and won my second Grand Slam. It's a great feeling still," said Kerber.

"But we are here, new tournament, new matches. This is the challenge for me for the next weeks. I really look forward to taking this challenge. It's a new situation for me. Yeah, I will try to not thinking too much about this because I learned from the years before that I have to really focusing on every single day here. It's a new tournament, new opponents. That will be my focus this week."

Monday's packed scheduled opens with two-time Wimbledon champion and 2014 Wuhan winner Petra Kvitova against Latvian rising star Jelena Ostapenko, while local interest will be focused on the battle of home favourites Shuai Zheng and Shuai Peng.

Simona Halep will also face a countrywoman when she takes on fellow Romanian Irina-Camelia Begu. Former US Open champion Samantha Stosur takes on in-form Caroline Wozniacki on Monday's evening session. Wozniacki comes to Wuhan fresh from winning the Toray Pan-Pacific title in Tokyo on Sunday.


2016 DONGFENG MOTOR WUHAN OPEN - WUHAN, CHN
$2,589,000,25 SEPTEMBER-01 OCTOBER 2016
RESULTS - SEPTEMBER 25, 2016

Women's Singles - First Round
[9] S. Kuznetsova (RUS) d B. Bencic (SUI) 63 34 Retired
[Q] L. Chirico (USA) d [12] T. Bacsinszky (SUI) 63 43 Retired
[13] R. Vinci (ITA) d M. Puig (PUR) 63 63
Y. Wickmayer (BEL) d S. Rogers (USA) 63 76(1)
I. Begu (ROU) d [Q] E. Kulichkova (RUS) 46 76(4) 62
Y. Shvedova (KAZ) d [WC] S. Zheng (CHN) 60 63
[Q] K. Siniakova (CZE) d T. Babos (HUN) 63 75
E. Makarova (RUS) d [WC] S. Lisicki (GER) 61 62
L. Safarova (CZE) d V. Lepchenko (USA) 75 63
L. Siegemund (GER) d D. Kovinic (MNE) 67(7) 75 64

Women's Doubles - First Round
[8] J. Goerges (GER) / K. Pliskova (CZE) d [WC] C. Liu (CHN) / K. Zhang (CHN) 63 75
A. Krunic (SRB) / K. Siniakova (CZE) d D. Gavrilova (AUS) / D. Kasatkina (RUS) 75 64
[WC] X. Han (CHN) / L. Zhu (CHN) d A. Rosolska (POL) / H. Watson (GBR) 64 46 10-7
A. Klepac (SLO) / K. Srebotnik (SLO) d A. Groenefeld (GER) / K. Peschke (CZE) 76(3) 64

ORDER OF PLAY - MONDAY, SEPTEMBER 26, 2016
CENTRE COURT start 12:00 pm
J. Ostapenko (LAT) vs [14] P. Kvitova (CZE)

Not Before 2:00 pm
[WC] S. Peng (CHN) vs S. Zhang (CHN)
[4] S. Halep (ROU) vs I. Begu (ROU)

Not Before 7:00 pm
[16] S. Stosur (AUS) vs C. Wozniacki (DEN)
[5] K. Pliskova (CZE) vs L. Safarova (CZE)

COURT 1 start 12:00 pm
[Q] A. Cornet (FRA) vs [10] D. Cibulkova (SVK)
[11] J. Konta (GBR) vs A. Beck (GER)
S. Errani (ITA) vs B. Strycova (CZE)

Not Before 5:30 pm
Y. Wickmayer (BEL) vs [7] C. Suárez Navarro (ESP)

COURT 2 start 12:00 pm
[15] A. Pavlyuchenkova (RUS) vs M. Doi (JPN)
C. Vandeweghe (USA) vs K. Mladenovic (FRA)
J. Jankovic (SRB) vs D. Gavrilova (AUS)
M. Lucic-Baroni (CRO) vs C. Garcia (FRA)

COURT 3 start 12:00 pm
Y. Putintseva (KAZ) vs A. Sevastova (LAT)
[Q] H. Watson (GBR) vs M. Brengle (USA)
[Q] B. Mattek-Sands (USA) vs E. Svitolina (UKR)
[Q] D. Kasatkina (RUS) vs [Q] J. Goerges (GER)

COURT 4 start 12:00 pm
A. Parra Santonja (ESP) / A. Rodionova (AUS) vs G. Dabrowski (CAN) / M. Martínez Sánchez (ESP)
[6] T. Babos (HUN) / Y. Shvedova (KAZ) vs M. Irigoyen (ARG) / T. Maria (GER)
Y. Xu (CHN) / S. Zheng (CHN) vs R. Atawo (USA) / A. Spears (USA)
after suitable rest - I. Begu (ROU) / L. Siegemund (GER) vs C. Mchale (USA) / S. Peng (CHN)

ORDER OF PLAY - MONDAY, SEPTEMBER 26, 2016

CENTRE COURT start 12:00 pm
J. Ostapenko (LAT) vs [14] P. Kvitova (CZE)

Not Before 2:00 pm
[WC] S. Peng (CHN) vs S. Zhang (CHN)
[4] S. Halep (ROU) vs I. Begu (ROU) or [Q] E. Kulichkova (RUS)

Not Before 7:00 pm
[16] S. Stosur (AUS) vs C. Wozniacki (DEN)
[5] K. Pliskova (CZE) vs L. Safarova (CZE)

COURT 1 start 12:00 pm
[Q] A. Cornet (FRA) vs [10] D. Cibulkova (SVK)
[11] J. Konta (GBR) vs A. Beck (GER)
S. Errani (ITA) vs B. Strycova (CZE)

Not Before 5:30 pm
Y. Wickmayer (BEL) vs [7] C. Suárez Navarro (ESP)

COURT 2 start 12:00 pm
[15] A. Pavlyuchenkova (RUS) vs M. Doi (JPN)
C. Vandeweghe (USA) vs K. Mladenovic (FRA)
J. Jankovic (SRB) vs D. Gavrilova (AUS)
M. Lucic-Baroni (CRO) vs C. Garcia (FRA)

COURT 3 start 12:00 pm
Y. Putintseva (KAZ) vs A. Sevastova (LAT)
[Q] H. Watson (GBR) vs M. Brengle (USA)
[Q] B. Mattek-Sands (USA) vs E. Svitolina (UKR)
[Q] D. Kasatkina (RUS) vs [Q] J. Goerges (GER)

COURT 4 start 12:00 pm
A. Parra Santonja (ESP) / A. Rodionova (AUS) vs G. Dabrowski (CAN) / M. Martínez Sánchez (ESP)
[6] T. Babos (HUN) / Y. Shvedova (KAZ) vs M. Irigoyen (ARG) / T. Maria (GER)
Y. Xu (CHN) / S. Zheng (CHN) vs R. Atawo (USA) / A. Spears (USA)
after suitable rest - I. Begu (ROU) / L. Siegemund (GER) vs C. Mchale (USA) / S. Peng (CHN)

The Dongfeng Motor Wuhan Open takes place between 23 September and 01 October 2016. For more information and to buy tickets visit: www.wuhanopen.org

ENDS