Yesterday, the Swiss belle star Timea Bacsinszky took an enjoyable visit to Huazhong University of Science and Technology (HUST) --Li Na's Alma Mater -- and conducted a vivid field teaching match with many HUSTers.
Actually, she was not eye-catching over the past ten years until last year's French Open. Though finally knocking out the superstar Serena Williams in the semifinals at French Open, she greatly captured the world's attention by virtue of her fierce service. Owing to her overachieving performance, she immediately ascended to the world Top 15. Obviously, she is heading the list of Swiss women tennis players, in succession to her former seniors like Martina Hingis and Patty Schnyder.
Visit and Selfie in Li Na's Alma Mater
At 10:30 a.m., Timea Bacsinszky, in sport suit, appeared in HUST. With a huge fan base in China, she received a warm welcome as soon as she turned up.
Speaking of Bacsinszky, Chinese tennis fans always honored her as "Teacher Ba". She was increasingly popular not only because of her philosophical words at interviews but her own legendary experiences. Surprisingly, this potential player, the world No.14, almost became a cook.
Bacsinszky said that she got lifelong benefits from such experiences when she was an intern in a bakery.
"I think I have changed a lot now. I can get along well with many people including the back-stage crew. I seldom wreak my fury on ball boys, judges and service workers in the locker room."
Knowing that the prestigious school was Li Na's Alma Mater, she spoke highly of it and sincerely asked the photographer to take pictures here for her. However, it was far from enough to meet her needs. Thus, she took her phone and posed for selfies by pouting, acting cute and playing cool.
Mysterious Scene Stealer in "Teacher Ba's" Field Teaching
About 11 a.m., when Bacsinszky appeared in the outdoor tennis court of HUST, students who had waited for a long time clapped and shouted her name warmly.
"Thank you," Bacsinszky repeatedly bowed her thanks to them. And then, she picked up a racket and begin a teaching match with teachers and students present.
When a return was out, Bacsinszky hinted at a new ball. However, just at this moment, two mysterious "ball boys" appeared that surprised everyone in the court.
"What is it," Bacsinszky leaned forward and closely observed these two robotic "ball boys" with full curiosity. After a while, she made an exaggeratedly surprising expression and exclaimed: "Oh my god!".
Actually, those two robotic "ball boys" were the latest works of Robo Masters Club from HUST. It was reported that this club is constituted of more than thirty students majoring in electronics, machinery, automation and so on. Their works have received many state-level awards. For the sake of Wuhan Open, they had modified and improved these two robotic "ball boys" for more than a month.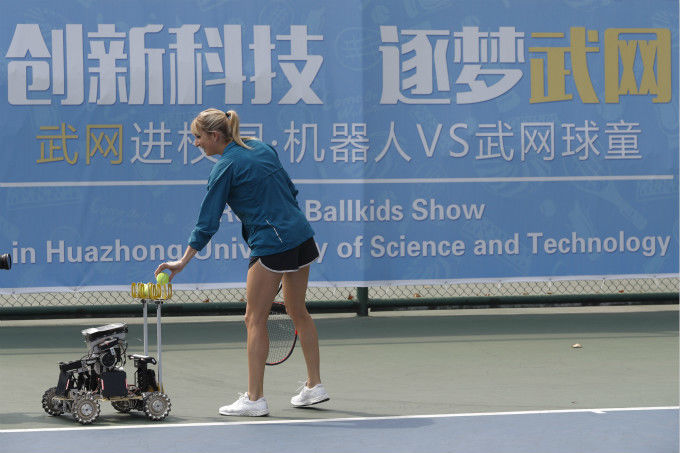 As is known to all, Li Na retired temporarily and studied for journalism with her husband, Jiang Shan, at HUST. Referring to this, Sun Jingbo, the minister of sports department said that HUST has always been closely tied to tennis.
"We have professional teams oriented to Wuhan Open", said by Sun Jingbo. Since the first year of Wuhan Open, HUST has always played a leading role in providing and dispatching volunteers. Among those professional teams, translation team in particular, is quite mature.
According to Sun Jingbo, the finals of Wuhan Open for college students would be set up in HUST. It would not only positively popularize the tennis sports of HUST, but also greatly stimulate the development of tennis sports in Wuhan and Hubei Province.